Description détaillée
 Pack "Spécial Thé Dansant" - Musette - Rétro pour CLAVINOVA CVP Série 500/600/700
Merci de sélectionnez votre Clavinova dans la Déclinaison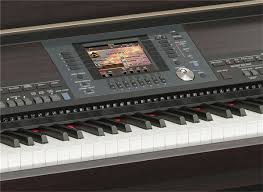 Disponible Uniquement en Téléchargement
Traitement de Vos Commandes Garanti dans la Journée pendant les Heures d'ouverture (Voir Haut du Site)
Pour votre commande Download un Lien de Téléchargement vous sera envoyé dans la Journée (hors W.E et Jours Fériés), accompagné d'un Mode d'Emploi, il vous suffira de décompresser le Fichier avec WINRAR avant transfert sur Clé USB
Un lien de Téléchargement Sécurisé vous est adressé après réception de votre paiement
Nous vous assistons du Lundi au Vendredi jusqu'à 18 H et le Samedi jusqu'à 12 H pour toute question
Inclus également 7 Recueils de Partitions au Format PDF
à imprimer chez Vous avec les plus grands succès Français et Internationaux 
Avec Paroles,ligne mélodique et Accords Claviers, pour vous inspirer
De Nombreux Nouveaux Styles qui vous emmènerons dans une Ambiance "Thé Dansant - Rétro & Musette" avec des Styles Spécialement,
Sélectionnés et Réarrangés pour votre Tyros 3/4/5 
Tous nos Styles Contiennent 3 Intros - 4 Variations- 1 Break- 3 Endings
Paso Doble - Cha Cha - Beguine - Tango - Twist - Rock'n Roll - Ballade et autres Styles Latino
Un Total de 390 Styles entièrement dédiés à l'ambiance du Thé Dansant
Détails du Pack :
Ballades : Styles avec Nouveaux Arrangements

6/8 Pop Ballad, 8 Beat Ballad 1, 8 Beat 2, 8 Beat Ballad, 8 Beat Live, 8 Beat Ballad, 8 Beat
Hit, 16 Beat Ballad,16 Beat Ballad 1, 16 Beat Ballad 2, 16 Beat Ballad 3, 16 Beat Ballad 4,
50's Ballad, 60's Guitar Pop, 80's 8 Beat, 80's Love Song, 90's Chart Beat,90's Cool Ballad,
90's Pop Ballad, 90's Power Ballad, Acco Beat, Accordéon Ballad, Acoustic 8 Bt, Acoustic
Blues, Analog Ballad, Ave Maria Ballad, Ballad 1, Ballad Adeline, Big Rock Ballad, Boyband,
Brocken Beat, Chart Ballad, Chart Piano Shfl, Chart Rock, Classic 8 Beat, Classic 16 Beat,
Club At Beat, Cool Ballad, Country Slow, Don't Dream, Dream Ballad, EAP Slow Rock,
Easy Ac. Beat, Easy Beat 1, Electric Ballad, Folk Ballad 1, Folk Ballad 2, Groovy Ballad,
Guitar Beat, Guitar 8 Beat Styler, Guitar Moment, Hawaiian 2, Heart Beat, Light Ballad,
Love Ballad, Love Piano Beat, Mod.6/8 Ballad, Mod.Orch.Ballad, Mod.Pop Ballad,
Mod. 16 Beat Ballad, MOR 16 Beat, Never Beat, Pop Ballad, Pop Ballad 2, Pop Latin Bld,
Pop Solea, Power Ballad, Real Latino, Rock Bld 6/8, Rock Guit Bld, S Country Beat, Silence
Beat, Smooth Ballad, Soft Piano Beat, Stand Slow,Sternen Fox, Stipe Ballad, Summer Pop,
Sweet Shild Bld, Top Ballad, TV Ballad, Warm Ballad
Latin : Styles Sud Américains

Beguine 1, Beguine 2, Beguine 3, Beguine 4, Beguine 5, Beguine S,Beguine Organ,
Bolero, Calypso, Caribean 1, Caribean 2, Caribean Rock, Caribic Shfl, Cha Cha 1, Cha Cha 2,
Cha Cha 3, Cha Cha 4, Cha Cha 5, Cha Cha 6, Cha Cha Swing, Corazon Cha, Cuban Cha,
Gurucha, Club Latin 1, Cumbia 1, Disco Samba, Go Salsa,Guitar Rumba, Ibiza 1, Ibiza 2000,
Ibiza Rock, Isl Beguine, Island Beguine, Latin 1, Latin Carnaval, Latin Disco 1, Latin Disco 2,
Latin Pop 2, Latin Rock 1, Latin a Gogo, Live Cha Cha, Mambo, Merengue, Merengueti,
Modern Beguine, Modern Cha, Organ Cha, Rock Cha Cha, Rumba L., Samba Dance, Samba,
Samba Medley, Sax Rumba, Simple Rumba, Slow Rumba, Tea For Two Cha, Tex Mex 2/4,
Tijuana, Zouk V
Paso Doble :

Paso 1, Paso 2, Paso 3, Paso 4, Paso 5, Valencia, Mariachi Paso
Rock'n Roll, Twists, Charleston, Fox : 27 Styles

Rock Around The Clock, 60's Rock, Ballroom Quick Step,Brassy Rock, Charleston 1,
Charleston 2, Combo Twist, Croco Twist, Easy Rock, Hot Rock'n Roll, In The Mood,
J60 Rock'n Roll, Mr Rock'n, Oldies Rock, Paris Fox, Rock'n Roll 2, Rock Swing, Rock & Roll,
Rock'n Roll Music, Rock'n Roll Sax, Schi Twist, Twist 1, Twist 2, Twist Hand, Twist Live,
Woogie Live
Tangos :
Argentina Tango, Blue Tango, Euro Tango, Folk Tango, Italian Tango, Guitar Tango,
La Cumparsita, Le Plus Beau Tango, Le Tango, Orch. Tango, Tango Simple,
Tango Argentina 1, Tango Argentina 2, Tango Argentino, Tango Casta, Tango L,
Tango Violin, Tango Tenor, Tango Habanera, Tango 2
Valses :
Lovely Waltz, Classic Waltz 2, French Waltz, Grand Waltz, Musette S1, Oberkrain Waltz
Piano Waltz, Piano Waltz 2, Polo Waltz, Pop Waltz 1, Pop Waltz 2, Schunkel 1,
Schunkel Waltz 2, Simple Waltz, Slow Waltz 1, Slow Waltz Piano, Swing Waltz,
Trad Waltz, Vaya Slow Waltz, Vienna Waltz,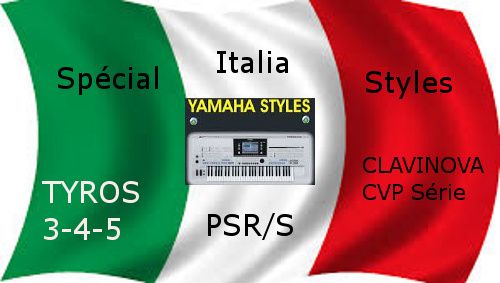 + Un Pack Bonus de Styles Songs Spécial Tubes Italiens 72 Styles
Les Meilleurs Styles pour votre clavier, des plus grands Tubes Italiens


Claudio Villa, Adriano Celentano, Eros Ramazotti,Zucchero,Gigi d'Alessio,Fausto Leali,Umberto Tozzi,Lucio Battisti,Massimo Ranieri,Laura Pausini ......................
Liste des Styles Songs:

O Sarracino (Renato Carosone), A Chi (Fausto Leali), Acqua Azzurra (Lucio Battisti),
Ancora,Ancora (Mina), Azzurro (Adriano Celentano), Banane Lampone (Gianni Morandi)
Bandolero Stanco (Roberto Vecchioni), Bocca di Rosa (Fabrizio De Andrè),
Chitarra Vagabonda (Claudio Villa), Ciao Ciao Bambina (Domenico Modugno/Dalida),
Ci Vorrebe un Amico (Antonello Venditti),Con Il Nastro Rosa (Lucio Battisti)
Cuore Mato (Little Tony),Dalla pelle al Cuore (Antonello Venditti), Diamante (Zucchero)
Di Sole E D'Azzurro (Giorgia),Domenica Bestiale (Fabio Concato),
(L')Emozione Non Ha Voce (Adriano Celentano),Fiori Bianchi per te (Jean François Michael) Adieu Joly Candy
Generale (De Gregori),Gente Come Noi (Gigi D'Alessio),Gente di Mare (Umberto Tozzi)
Giana (Rino Gaetano),Gloria (Umberto Tozzi), Il Jardini Di Marzo (Lucio Battisti)
Il Balo Di Simone (Giuliano E I Notturni),Il Cielo in Una Stanza (Gino Paoli/Mina)
Il Ribelle (Adriano Celentano),Io Vagabonde (Nomadi), Io Canto (Laura Pausini)
Io Vivro Senza Te (Lucio Battisti),L'Italiano (Toto Cotugno),L'ora Dell'Amore (I Camaleonti)
La Bandiera Gialla (Gianni Pettenati),La Donna del Mio Amico (i Pooh)
La Mia Banda Suona il Rock (Ivano Fossati),Terra Promesse (Eros Ramazotti)
Ma La Note No (Renzo Arbore),Maladetta Primavera (Loretta Goggi)
Manuela (Julio Iglesias),Mare d'inverno (Il) ( Loredana Bertè),Marina Marina (Rocco Granata)
Non Ce (Laura Pausini),Non Dirgli Mai (Gigi D'Alessio),Non Voglio Mica La Luna (Fiordaliso)
Ora Sei Rimasta Sola (Adriano Celentano),Perdere L'Amore (Massimo Ranieri/Lara Fabian
Quella Carezza Della Sera (New Trolls),Roberta (Peppino Di Capri)
Rose Rosse (Massimo Ranieri),Sally (Fiorella Mannoia)
Senza Una Donna (Zucchero),Sara Perché Ti Amo (Richi E Poveri)
Se Adesso Te Ne Vai (Massimo Di Cataldo),Sincerita (Arisa)
Soli (Adriano Celentano/Toto Cutugno),Stella Stai (Umberto Tozzi)
Suona Chitarra (Franco Bastelli),Tango Delle Capinere (Ginola Cinquetti/Luciano Tajoli)
Ti Lascero (Fausto Leali/Anna Oxa),Tu Vuo Fa L'Americano (Renato Carasone)
Un Emozione Per Sempre (Eros Ramazotti),Un Altra Te (Eros Ramazotti)
Una Lacrima Sul Viso (Bobby Solo),Una Carezza in Un Pugno (Adriano Celentano)
Una Lunga Storia D'Amore (Gino Paoli),Un Attimo Di Pace (Eros Ramazotti)
Uomini Soli (Pooh),Vita Spericolata (Vasco Rossi)
Song Styles: 37 Styles de Qualité
Always on my Mind, Ave Maria, Rivers of Babylon,I Do it For You (B.Adams), Coco Jamboo,Falling in Love (Elvis), La Bamba, Laydies Night, Bailando Paradiso,Sweet Caro, We Have a Dream etc.......